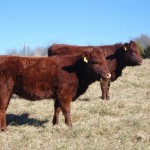 They're a year old now.  The dam is the famous Tilbrook Cashtiller; the sire, the great Cutcombe Jaunty. Our English partners Gavin Hunter and Margaret Elliott, may take a bow.
At one year of age, we can only say both show great promise, but it takes about two years to really size up a cow's potential.  These heifers are at Walker Century Farms in South Carolina.  Three sisters are two bull calves from the same flush are in residence at Thistle Hill Farm in Virginia.
In the next few weeks, we'll be implanting more embryos from these same pairings as well as pairings of Ashott Barton Millennium Falcon with  and Goldings Norah and Essington Buttercup.  Once we have enough options on the ground, the real work of establishing pure and traditional English Devon here in America begins in earnest.