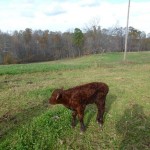 …is a bull calf, here just an hour old but already standing and following mom across the pasture.  He was born at Thistle Hill Farm in Virginia and you can see him if you're attending the American Devon Cattle Association meeting November 9 and 10.  Well actually you can visit anytime.
Falcon, of course, is Ashott Barton Millennium Falcon, the bull that became the foundation for Traditional Devon America when we first saw him almost three years ago.  The dam is Goldings Snowdrop 113.
The mating took place at a clinic near Cambridge, England and the embryo was shipped here just about a year ago.  The recipient cow is one of Thistle Hill's best.  He deserves the very best.