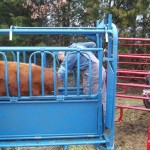 ….begins to unfold in South Carolina as embryologist Dr. Randall Hinshaw implants an embryo from Goldings Norah 21st in a recip cow.   The picture demonstrates the many facets to this project.  A cow taken from a pasture in England, flushed at a clinic near Oxford, the embryo flown to the United States, the recip waiting in South Carolina for the ministrations of the embryologist from Virginia.  And at the same time this was happening on Doyle Unruh's farm, a similar scene was being played out at Thistle Hill Farm near Hume Virginia with other embryos and other recips.  Other cows, another veterinarian, but all part of building our herd of pure, traditional English Devon.
It's an exciting time for us with lots to coordinate as the various parts we selected and assembled starting two years ago are now finally all coming together.  The first calves are on the ground in North Carolina (see previous post), embryos being transplanted here in the States, another shipment of embryos waiting to clear quarantine in England, another cow we have selected about to be flushed at the Oxford clinic, and a bull returned to its farm this week after semen collection in Penzance.
We didn't budget enough for phone calls.