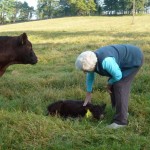 ….a happy milestone this weekend: our first Devon created with English genetics here in the "colonies".  Wooz welcomes TDA 16, an AI son of a Cashtiller daughter by Millineum Falcon.
We bring our heifers to a pasture close to the house so we can monitor calving, but it wasn't necessary this time, even though TDA 4 is a small animal.  She handled her first experienced smoothly in well-under two hours.
TDA 16, now named Falcon after his sire, will have to play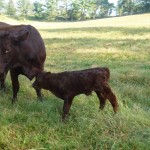 alone in the pasture for awhile.  His siblings aren't due for another month!