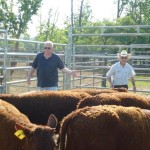 Traditional Devon America took another step into "reality" this weekend when we loaded our calves in North Carolina for their new home pastures.  Glenn Covington and DeKalb Wells had trouble keeping up with the group boarding the trailer for Thistle Hill Farm in Virginia.  They must have heard we've been having rain and the grass is good.
For the past six months, these seven calves have been raised at DeKalb's farm near Rose Hill and weaned from their recip mamas a few weeks ago.  Five were slated for Thistle Hill, including the two bull calves; two heifers went to Walker Century Farms in South Carolina.
The sun continued to shine on our efforts…meaning it suddenly turned cloudy with scattered showers for the trip home.  That made for cooler travel for the animals.  In fact, at a stop for lunch, there was a heavy rain for awhile and the temperature actually dropped into the 50s.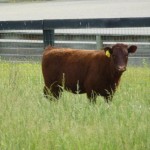 And here's what we had been waiting to see.  An English Devon on our own pastures.  This heifer is the happy result of a mating of champions:  Tilbrook Cashtiller, who swept every show she ever entered, and the legendary bull, Cutcombe Jaunty.
There's still a long way to go…more calves to birth in October…but for a few days at least we'll be unavailable; busy in the pasture getting to know our new family.