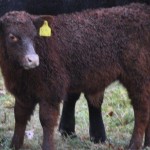 We've just returned from a trip to Georgia where the latest Traditional Devon calves have hit the ground.  It was an exciting moment, seeing the results of almost three years of planning and working (and mostly fighting with government bureaucrats on both sides of the Atlantic).
TDA 08 is out of Goldings Norah by Ashott Barton Millennium Falcon.  He and the others are at Doyle Unruh's farm near Hartwell.  Right now they're three months.  Later, after weaning, they'll be moved to South Carolina and Virginia.
This new arrival, and his brothers, can be seen on our Photo Album pages and it's given us a reason to update both the American and England sections.