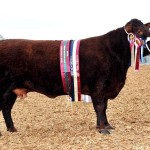 Angus and Joy Cottey's Garradon Fuschia swept the top places at the recent British Society show in Devon.  Fuschia was named best cow as well as Grand Champion, besting all the bulls in the show, too.
The Cotteys, of Little Dart Raffe, are not only good friends but our partners in Traditional Devon.  Their earlier bull, Cutcombe Jaunty, plays a key role in our breeding program.
We should also note that another associate, Gavin Hunter of Tilbrook Grange, is to be congratulated as well.  Fuschia's sire was Tilbrook Fireworks.
Traditional Devon America is very proud to be associated with such top-notch, quality English breeders.