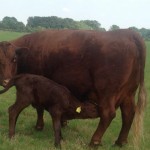 None prettier.  Our champion English cow, Tilbrook Cashtiller, with her latest:  a two-day old heifer at Gavin Hunter's farm.  Cashtiller, in her competing days, won every ribbon and trophy in sight.  Her bull calves were the top sellers in the Devon national class three years running.
She's about to turn 13 now…and Gavin tells us he thinks maybe this is enough.  We can only hope he changes his mind.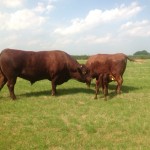 Here's the happy family:  the sire is Tilbrook Thomas.  TDA bred Cashtiller to another great English champ, Cutcombe Jaunty, and imported the embryos.  We have seven calves from the mating now on the ground here in the States.  The females will all be bred for the first time this fall.  We also have some more embryos safely implanted…and even more waiting.